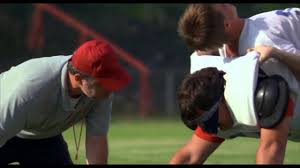 The giants that come against us every day can take many forms. It could be a medical issue, debt or a boss that hates you. One thing that remains consistent is that God is always there with you to help you through the challenging times of life. He will either deliver you from that circumstance or strengthen you so that you can out last it. Its natural human tendency to want to have an easy path through every area of our lives, but God wants us to grow and develop character and He uses testing circumstances to do it. This clip is from one of my favorite movies and there are a lot of takeaways from this scene that can help us go through the tough stages of life. Watch the six minute clip below. Below the video, I'll give you some takeaways that can help you outlast and defeat the giants that are against you.
God will always ask you to do more than you think you can do
At the beginning of this scene, the coach asked one of his players to do a drill and go to a specific point. The player immediate had doubt in his heart about it. Usually when God puts us through things or is leading us to do something, it may look like a daunting task. You may not know how you would even start or get over specific hurdles to accomplish the goal. This is all part of Gods purpose in wanting you to do the task. He wants to show you what you are capable of because He sees more strength in you than you know. Secondly, God wants you to call out to him for help and encouragement when you need it. This will build your relationship with God and this is what God really wants.
You need to block out the mockers
When the football player in this scene started the drill you could hear the other team mates start to mock him. You can even see one shaking his head in doubt, thinking that he wasn't going to be able to finish the drill. What happened was that as he started to do the drill and move further and further past the original request, the mockers got quite. As you start out your journey or try to defeat the giants in your life, you more than likely hear people starting to mock you saying that you can't or won't do it. It's important to block these voices out. I'm reminded of Noah when God asked him to build the arch. The people that saw him building it
Your coach is with you
Throughout this scene the Coach was right there beside the player. He started off walking beside him and when it got hard he was right there on the ground with him. Every step that the player took, the coach was right there to encourage him to reach his goal. The same way God is right there with us as we go through our challenges as well. When things get hard, that's when God gets even closer to us to encourage us to persevere.
There's a bigger purpose for the trial
At the end of this scene, we see why the Coach asked his player to do this drill again. In addition to the football player doing more than he though, the coach also revealed to him that he is the leader on the team. As one of the most influential players on the team the Coach revealed to him that the rest of the players will follow his lead and the success on the field was dependent on him. The way that this parallels our lives is when we are going through trials is that there is often another reason why God brings us through it. Example, if someone is dealing with a sickness but their faith in Gods ability to heal them remains strong throughout, God could be using this to build up the faith of a family member that has close by. Maybe that family member is does not believe in Jesus and through this trial, they will come into relationship with God.
Overall this movie is one of the best that I have ever seen. There are so many takeaway and learning moments in this scene and throughout the entire movie that I would encourage you to watch it. From the scene above, what other takeaways can you pull out? Share them with me. If you haven't watch this movie before I would highly recommend it. It's called Facing the Giants.
If you need encouragement, be sure to listen to my podcast. It's called the Faith Fight Podcast and it is designed to build yo up to overcome and receive the answers to your prayers. You can find the podcast on Apple Podcast, Google Play Music, Spotify, SoundCloud, YouTube or listen to all the episodes by clicking here. Be blessed and continue to stand strong to defeat all the giants in your life.