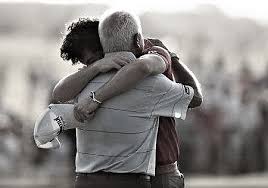 Whether its forgiving someone else or yourself, forgiveness is an area the we need to practice in our lives in order to free ourselves or others from offenses against us.  Forgiveness is the intentional and voluntary process by which a someone undergoes a change in feelings and attitude and closes to let go of negative emotions such as vengeance, recompense or any form of punishment towards the offender. Listen to this episode below and click here for the notes, and prayer plan on this episode.
Bear with each other and forgive one another if any of you has a grievance against someone. Forgive as the Lord forgave you. – Colossians 3:13
The key to forgiving others is remembering how much God has forgiven you. Is it difficult for you to forgive someone who has wronged you a little when God has forgiven you so much? Realizing God's infinite love and forgiveness can help you love and forgive others.
Be kind and compassionate to one another, forgiving each other, just as in Christ God forgave you. – Ephesians 4:32
This is the law of forgiveness as taught in the Gospels. We also see it in the Lords player. God does not forgive us because we forgive others, but solely because of his great mercy. As we come to understand his mercy, we want to be more like him. Having received forgiveness we should pass it on to others.
If we confess our sins, he is faithful and just and will forgive us our sins and purify us from all unrighteousness. – 1 John 1:9
If God has forgiven us for our sins because of Christ's death, why must we confess our sins? In admitting our sins and receiving Christ's cleansing we are:
Agreeing with God that our sin truly is sin and that we are willing to turn from it.
Ensuring that we don't conceal our sins from Him and consequently from ourselves.
Recognizing our tendency to sin and relying on his power to overcome it.
"I, even I, am he who blots out your transgressions, for my own sake, and remembers your sins no more. – Isaiah 43:25
How tempting it is to remind someone of a past offense when you are in an argument with that person. But when God forgives our sins He totally forgets them. We never have to fear that He will remind us of them later. Because God forgives our sin, we need to forgive others.
"Come now, let us settle the matter," says the Lord. "Though your sins are like scarlet, they shall be as white as snow; though they are red as crimson, they shall be like wool. – Isaiah 1:18
The stain of sin seems permanent, but God can remove sin's stain from our lives as he promised to do for the Israelites. We don't have to go through life permanently soiled. God's word assured us that if we are willing and obedient; Christ will forgive and remove our most permanent stains.
For as high as the heavens are above the earth, so great is his love for those who fear him; as far as the east is from the west, so far has he removed our transgressions from us. – Psalm 103:11-12
East and west can never meet. This is a symbolic portrait of God's forgiveness. When He forgives our sin, he separates it from us and doesn't even remember it. We need never wallow in the past because God's forgives and forgets. If we are to follow God, we must model his forgiveness. When we forgive someone else, we must also forget the sin. Otherwise, we have not truly forgiven.
So he got up and went to his father. "But while he was still a long way off, his father saw him and was filled with compassion for him; he ran to his son, threw his arms around him and kissed him. – Luke 15:20
In this story, the father watched and waited for his son to return. God's love is constant, patient and welcoming. He will search for us and give is an opportunity to respond but He will not force us. Like the father in mentioned in this verse, God waits patiently for us to come to our senses and is willing to forgive us when we ask.
"The older brother became angry and refused to go in. So his father went out and pleaded with him. But he answered his father, 'Look! All these years I've been slaving for you and never disobeyed your orders. Yet you never gave me even a young goat so I could celebrate with my friends. But when this son of yours who has squandered your property with prostitutes comes home, you kill the fattened calf for him!' – Luke 15:28-30
In this story of the prodigal son, the fathers response is contrasted with the older brothers response. The Father forgave because he was filled with love. The older son refused to forgive because he was bitter about the injustice of it all. His resentment rendered him just as lost to the fathers love as his younger brother was. Don't let anything keep you from forgiving others. If you are refusing to forgive people, you are missing a wonderful opportunity to experience joy and share it with others.
For if you forgive other people when they sin against you, your heavenly Father will also forgive you. But if you do not forgive others their sins, your Father will not forgive your sins. – Matthew 6:14-15
It is easy to ask God for forgiveness but it can be difficult to grant it to others. Whenever we ask God to forgive us our sins, we should ask ourselves, "Is there anyone that I am in need of forgiving?"
May you continue to be blessed and be sure to download the prayer plan and notes for this episode by clicking here.
Blessings!