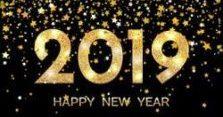 It's that time of year again. If you are reading this then you made it through 2018 and into 2019. A new year marks a new opportunity, another chance and a fresh start in your life. Don't carry the baggage from last year into today. Move forward and don't look back except if its to learn from your mistakes and grow.
You may have decided to change some things are start doing some new things this year and I'm no different. I know you have been used to seeing a new post from me every week, but this is going to change because I have something exciting that you are going to love. Going forward, I will be only posting an article only once a month at minimum. Don't worry, every article that I post will be full of fresh revelation and insights into how you can grow spiritually in your relationships, business, and personally, as well as mature in your spiritual walk with God.
The exciting news is that I will be releasing my new podcast called The Faith Fight Podcast.  Romans 10:17 says that "Faith comes by hearing, and hearing by the Word of God". This podcast is designed to help build up your faith by giving you the verses that you need related to your prayer request so that you can listen, understand and pray in the promises of God into your life. Each episode will be released on a Monday morning and will be about 15min long. The topic will range from any prayer request that you could have (Healing, Salvation for a Family Member, Financial Breakthrough, Finding Employment, Restoring Marriages etc.) With each episode, I will include the notes that I used for that episode plus a prayer plan that you can use for your prayer for the rest of the week. The prayer plan will give you structure and focus and help you to maximize your devotional prayer time.
The trailer for the podcast is up now and you can subscribe using any of the major podcast player apps (Apple, Google Play Music, Sound Cloud, YouTube) I want you to to SUBSCRIBE so you don't miss an episode, LEAVE A 5 STAR RATING and SHARE IT WITH YOUR FRIENDS AND FAMILY. I want to see you grow from glory to glory in 2019 so join me in the FAITH FIGHT!
I'm praying for Gods very best for you in 2019. Be safe, follow God and enjoy every moment.
Be Blessed!