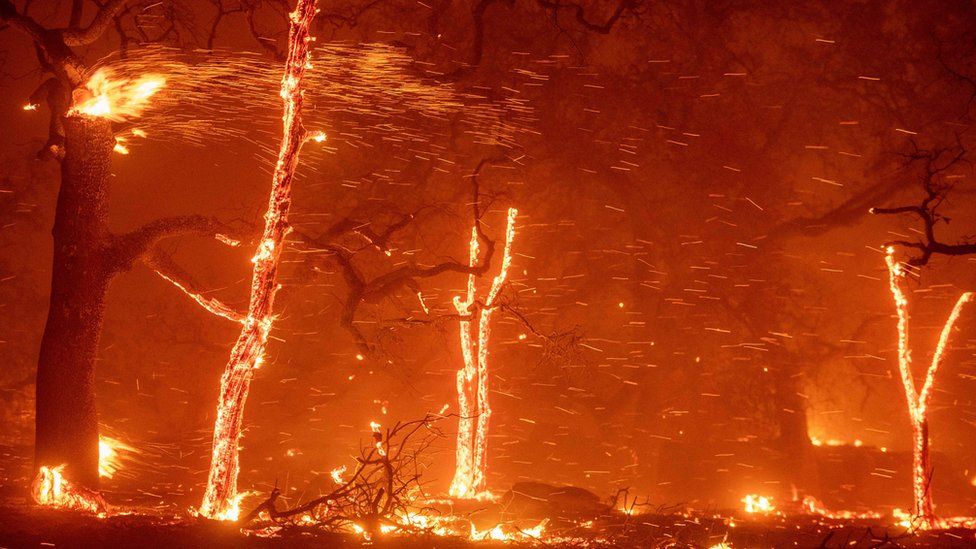 By now you may have heard of the situation in California.  Prayers for all the people affected by the out of control fires. If you or anyone you know lives in any of the affected areas I hope they are okay.  What I find really incredible with this disaster is the speed that some of these wild fires are moving. One report that was from the City of Paradise California said that the fires were moving at eight hundred yards per minute.  That speed is incredible!  But God will help those rebuild bigger and better than before.  He always has a plan.
Just as the fires are raging, so is the devil in just about every area of society. There are reports almost every day of a extremely violent shooting similar to the one recently in Thousand Oaks California.  There are very troubling incidents happening in high schools which involve weapons and levels of violence that this world has never seen.
Suicide amount young people is on the increase. Something that I love to do after church on a Sunday is relax and watch football. The Dallas Cowboys won their game but nobody was celebrating because one of the team members just lost his brother to a suicide. We send our prayers to Michael Gallup and his family as they deal with this situation. Families have to deal with situations like this too often. It is becoming too common and spreading too fast.
Drugs that were once banned are now accepted by entire countries. Canada recently legalized the use of marijuana and will sell it in their liquor stores to adults. This is a big mistake because marijuana is a chemical and can cause an imbalance in the brains of some people causing mental illness. In addition to that, more people have the opportunity to drive under the influence of this drug and potentially cause more accidents on the road. The residual effects of this decision by the government of Canada are far spreading if you ask me.
Let's continue to pray for our young people. Let's pray for our friends and family who may seem alone or depressed. Let's pray for those who are addicted to substance. Let's pray for those who lost their family members in senseless acts of violence. Let's pray for those who who lost their love ones, homes or possession in the California wild fires.
Just like the speed that the fires are spreading across California, so too the devil is spreading his agenda to steal, kill, and destroy. But the bible says, "… When the enemy shall come in like a flood, the Spirit of the Lord shall lift up a standard against him." Isaiah‬ ‭59:19‬ ‭KJV‬‬.  Gods will be done!
Please remember to look out for my new Podcast  coming soon.  Its called The Faith Fight Podcast.  This is where we will believe and pray for Gods best in your life and breakthrough in every situation.  Click here to subscribe so that you are notified when I release the first episode.
Be blessed.