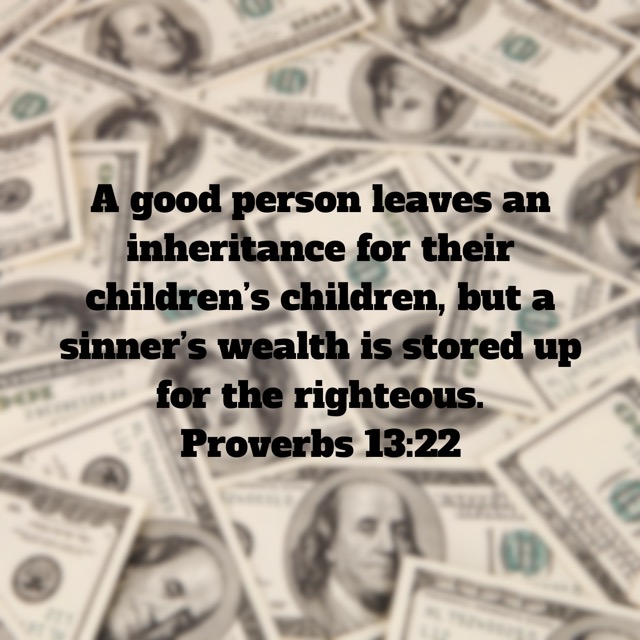 "A good person leaves an inheritance for their children's children, but a sinner's wealth is stored up for the righteous." Proverbs‬ ‭13:22‬ ‭NIV‬‬
How is someone to do this? For years I have heard preachers say this verse and then the entire congregation would get excited and the band would start to play and a praise break would break out. But they wouldn't see this promise come to pass in their lives. Why?
According to Proverbs 13:23, a good man should be leaving an inheritance for his children's children. That's means that two generations after you should be living off the wealth you created. Unless you are a doctor or lawyer with an extremely high salary then your current job isn't going to measure up to that mark.
Most Christians want the transfer of wealth to happen at a moment without any action on our part. Good luck with that! Aside from someone winning the lottery (which oftentimes doesn't last long) I've never heard of the wealth being transferred like this however, some Christians expect it to happen this way.
The problem is passive Christians. God has given us power to create wealth (Deut. 8:18) He had also given us the mind of Christ Jesus (1 Cor 2:16) We also have the Holy Spirit who is with us to lead us into all truths and reveal hidden wisdom to us. (John 16:13).
If we understand and believe those verses, than we should know how to receive the wealth of the sinners and create that inheritance package for your grandchildren. It's not going to come into your bank account by you doing nothing. God wants to work through you to create some business, product or service that would revolutionize an industry. You have the mind of Christ and all the creativity of God lives in you. Think about your current career and how it has changed from 10 years ago up to now. If you can say that is has changed then you know that there may be drastic changes in the next 10 years. And maybe God wants one of those new revolutionary ideas to come through you. If in the past 10 years there hasn't been any change in your industry then it can happen at any time now.
Press in and seek Gods face for that next biggest thing. Apply wisdom and understanding to bring it into the world from the realm of the spiritual. God knows the next big thing to His your industry.
"However, as it is written: "What no eye has seen, what no ear has heard, and what no human mind has conceived" — the things God has prepared for those who love him— these are the things God has revealed to us by his Spirit. The Spirit searches all things, even the deep things of God." 1 Cor 2:9-10‬ ‭NIV‬‬
Won't you just press in and use your mind to think of a new way to change the world. That new idea is how God is going to transfer the wealth of the sinners into your bank account. This is just encouragement for me as much as it is for you. Hope you are motivated to make it happen!!